Nothing sets off a vehicle better than a set of custom wheels and tires. We have the best wheel and tire packages at the best prices in the area. Wheels and tires add the finishing touch to any ride, especially when you have invested so much into the sound system.
What kind of wheels do you want to buy for your ride?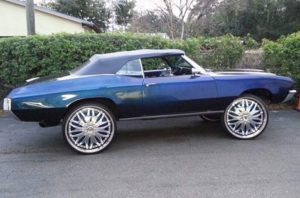 We have all heard that old saying "the shoes make the man". It really is true. You can learn a lot about a person by the shoes that they are wearing. And the same goes for your vehicle. What kind of wheels is your ride going to have? – And these wheels work well with this ride. What do you think?
Wheel and tire packages:
When you drive in to our custom car stereo shop and hire us for multiple installation services (and have purchased our sound system package) we will provide you with the most amazing low price for your new wheels and tires. Our happy customers are just raving about how much they saved when they went to Discount Auto Tunes.
Come on in to pick out your rides new wheels and tires.
Drive on in to choose your new wheels and tires. From 26's to Z rated tires, we have the top of the line wheels and tires to meet your wants and needs. When you are here let our experts help you choose the perfect wheel tire package to match your personality and vehicle goals.